Bio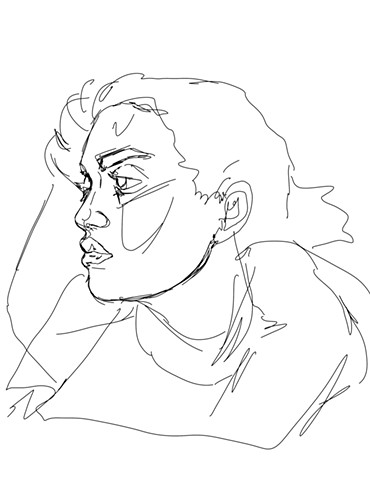 Kavya Tiwari is of Indian decent.
In 2018 she received her Bachelor's of Fine Arts with a minor in Biological Studies at Loyola University Chicago. Tiwari is the recipient of the Jean Unsworth
Scholarship and is a Damen Scholar. She has won multiple awards within Loyola University's art programs. She has worked at Chicago Artists' Coalition, Comfort Station, Gallery 1070, PATRON, and the Ralph Arnold Gallery. Tiwari is particularly fond of drawing works on paper and participating in the social, performative rituals of contemporary gallery hopping. She currently works at the School of the Art Institute of Chicago. Tiwari lives in Chicago and hopes to remain there in the near future.


STATEMENT:
My practice bridges the physical gesture of drawing with the performance of carrying overwhelming historical and emotional weight. Through drawing, I create personal mythologies mapping femininity and vulnerability amidst cultural taboos and expectations—specifically about religious and moral guilt. The labor-intensive aesthetic of classical devotional painting inspires my contemporary works on paper. The painstaking, calligraphic mark making mirrors the repetition of anxious thoughts and churning emotions within a visual narrative. Working at a grandiose scale on fragile paper allows me to invoke pious devotion and ornamentation in a form that is both monumental and irreverent. The lush patterns and allegorical imagery in my portraits serve to engage the viewer with the vastness of my Indian heritage, yet present the underlying themes of trauma and guilt present in both Eastern and Western culture.
My visual identity embraces South Asian textile art, Catholic imagery, and Eastern calligraphy. To portray intimate, idiosyncratic memories in the same scale and significance as holy portraiture allows me to engage themes of private guilt in a defiant, elaborate, and extremely public way. The unspoken rules of displaying emotions in society drive me to create even more intricate and devout pieces that investigate size and form.